30 of 40:
Sep 25/Elul 30
Today: The first day of the new year is actually the last day of this past year. Jewish logic. Today is the official day of shedding the past. Today begins the tradition of Tashlich that lasts through the next two weeks – it's Hebrew for 'throw away,cast off, discard, get rid of, highlight and delete' – whatever is weighing on your heart.
The tradition for Tashlich teaches us to throw bread crumbs into a living body of water, representing those sins.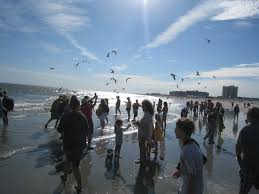 Sins are just another words for when we miss the mark, mess up, betray our highest notions of who and what we want to be. The moments of anger before we catch our breath and the eyes of the other, the seconds of fear that paralyze our trust, the hours and the days that send us spinning into depressions, confusions, self hatred and doubt.  That email you sent, that extra cookie, those words uttered, boundaries crossed, violence committed. Shame and secrets. Everybody's got some.
Let it go.
Or some of it anyway. Alone or with others, find a body of water (yes, it can be your toilet, but it's such a beautiful fall day and there's gotta be somewhere to walk to if you can?) Let your heart open and your mind resist less, and name each crumb, specifically, as you toss them overboard to feed the fish, recycling all this energy with gratitude, release, intention to change and improve and if need be, ask for help.
It's an ancient pre therapy pagan ritual for better living, that somehow made its way into the heart of Jewish new year celebrations generations ago, beloved for how easy and profound it is for all ages. And how it happens outdoors.
For those of you in NYC: Join me for shedding and welcoming the first sabbath of the year on the Hudson River tomorrow, Friday, 9/26, at 5pm. shed & shabbat on pier 84
Let it be. Shana Tova!