Welcome to America! Becoming a US citizen. Today.
Amichai Lau-Lavie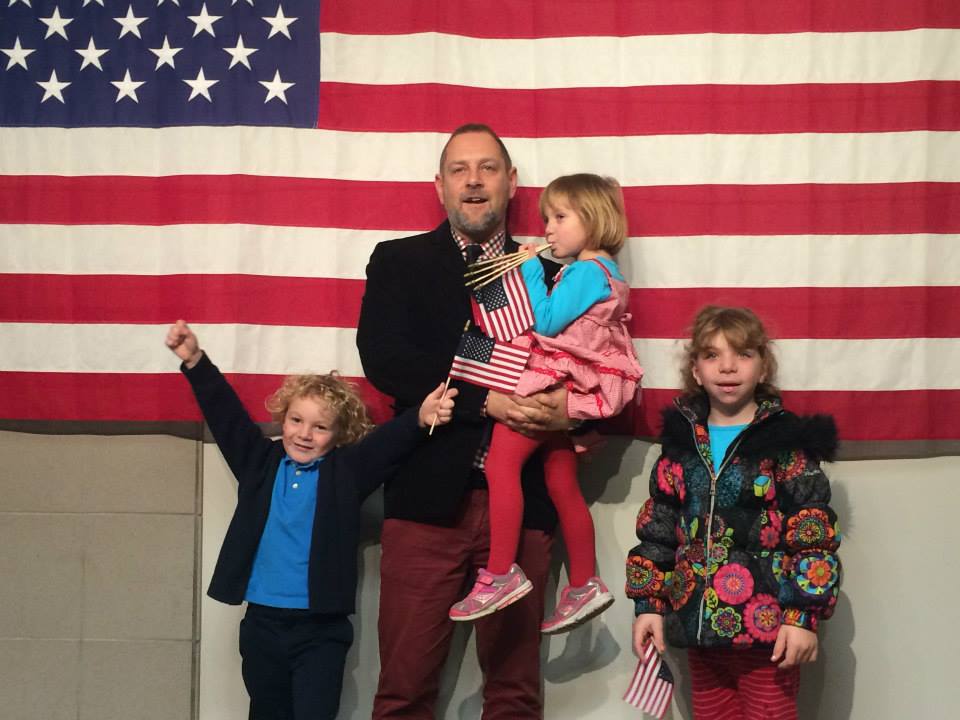 11/26/14
This morning I became an American citizen, (Pics here) surrounded by family and friends. It's a privilege and I'm proud and grateful to have arrived here and on the of thanksgiving no less – but it's also a moment of complexity- and literal duality. Today I am bi-national – with love for both my homes – and also with quite a few concerns.
Last night I marched for justice on 14th Street. Walking home from school I suddenly realized the street ahead was full of marchers, with slogans, raised fists and voices, police cars slowly trailing behind. All ages, colors, genders – about a 1000 people protesting injustice and racism in Ferguson and beyond. I joined them for about two blocks, going east in the middle of 14th street, now blocked for traffic. Then another large group, heading towards us from Union Sq., crossed 6th avenue to join, with loud cheers. Powerful. Rage is real. I stepped to the sidewalk, where a lot of cops were standing by. "Is this legal?" I asked one of the cops, a young white guy. "So far – yes" he replied, "but it can get messy real fast." I stayed standing there for another minute, watching the escalating commotion, when he turned to me and asked, more matter of fact than menacing "You part of this?" I said that yes, I was, but not if it gets illegal, can't risk that tonight – tomorrow morning I will be taking my oath as a new American citizen. He shook my hand and said congratulations. Then looked around and back at me and added, with a dry smile, "Welcome to America."
The last time I raised my hand to make an oath of allegiance was in 1988 – a 19 year old, newly drafted Israeli paratrooper at the Western Wall, standing at salute with my unit, vowing to die for our homeland, bible in one hand, gun in the other.
10 years later, in 1998, I arrived in Manhattan, invited for a six-month artistic residency at Congregation B'nai Jeshurun. One thing let to another: Six months turned into sixteen years.
I stood there this morning, remembering my arrival in the summer of '98, walking down Broadway with a huge smile and so many hopes.
And I thought of so many for whom this privilege was – and is – a life changing dream.
The one moment I shed a tear this morning was when each of the 150 new citizen was asked to stand when her/his country was called out. I thought of my father's family, back in Poland in 1939. How different it would have all been had one of them been standing here, like me, all those years ago?
I didn't come to America seeking asylum, but I did come here in need of more freedom of self-expression, curious especially to get to know liberal, progressive, pluralistic American Judaism in all its diverse and creative and queer forms.  Back in 1998 Netanyahu was already at the helm of his now almost two decades of leading Israel down a path that already then seemed to veer to the right of religion, democracy, peace and equal rights for all. To be the kind of liberal Gay Jew I wanted to be – I had to leave the familiar, like Abraham before me, and embark on a journey to a new territory.
I found my voice and my vocation in America. I learned to love, and learned to hurt. I became a father to three amazing American kids, and a part of a beautiful modern family. I've been privileged to meet important teachers and mentors, make life-long friends and partners; to collaborate and co-create a theater company that became a community and is now emerging as a congregation and a lab.  I've traveled all over the US to teach, perform, study, explore and help people connect more deeply to their soul, to each other, to their legacies. Along the path I took on new roles and responsibilities, including that of rabbi – my ancestral heritage, but with a liberal – post modern twist. As a rabbinical student at the Jewish Theological Seminary of America I have joined the ranks of some of the most important Jewish thinkers and leaders of the 20th and 21st Centuries.
I've lived in the same place in the East Village for 14 years – the longest I've lived anywhere as an adult. I was here on 9/11, and the blackout, and hurricane Sandy. NYC is home – it's where I've been paying taxes all these years, but I fly to Israel often – to visit – and to vote. I still dream in Hebrew and still read Ha'aretz online in Hebrew every morning, before I check out the New York Times.
When I raised my right hand to make the pledge of allegiance today (my kids practiced with me earlier) and the oath of citizenship I knew that it was 98% true. I am not denying my allegiance to my homeland or giving up my Israeli citizenship as asked to do. I mouthed the words but cringed inside – I don't like lies. But as my lawyer told me – it's just a matter of convention. Like many others, I get to go both ways.
So today I became a political bigamist – or is just bi-national?  I am honored to have dual citizenship with two homelands to love, two nations to be part of, to help make better – esp. as they are so closely connected.
But will one trump the other? Both homes have so much to be celebrated – and so much to worry about  – and to fix.
Just today I read in Ha'aretz that my colleagues – Conservative rabbinical students in Jerusalem were denied the right to pray in the Knesset synagogue – a right reserved to Orthodox Jews. It may have been a bureaucratic glitch, but it's not so unusual.  Had I not left Israel I would not have been able to become the artist and the spiritual leader that I have become. I would not have been able to make a living as the liberal rabbi of a congregation. My colleagues in Israel  – brave and creative fighters of religious freedom, who are not Orthodox  – are barely getting by.
I am blessed to be part of an American Jewish community – not without its problems – that honors me and my vision, to have the state endorse the marriages I officiate, and the government enabling me to marry whomever I want – when the time comes. (Attention, gentlemen – I now have two passports as bait…)
The recent turn in Israel politics to the right continues the trend that I sniffed out back in 1998 – and it's not looking better. The current debate on the National Law that prioritizes Jewish over Democratic is dangerous – not just to Non-Jews – but to all, like me, whose Judaism is not that of hard-line Orthodoxy. It's a worthy battle for the very soul of Israel – and I hope to be able to help, even from here.
Racism and nationalism are rocking Israel as it tries to define itself. The same challenges, if somewhat different, are rocking my now new official homeland. Ferguson is just the tip of a much bigger story, as class, race, religion and rage continue to divide the leader of the free world.
There's so much work to do on the ground, in the name of faith and in the footsteps of the prophets and the activists of justice and truth.
The privilege of citizenship, with its all its obligations, and the double challenge of dual citizenship is a gift I do not want to take for granted.
I am proud to participate in the national arenas, as full citizen, as a part of the solutions, not just the problems.
In one of his last speeches, the Rev. King called on Americans to 'carve a tunnel of hope in the mountain of despair.'  The oath I took today, with no Bible or gun in hand, handed me a shovel. I'm excited to join the long line of those who have been carving this tunnel, in Jerusalem – and the new Jerusalem, here, and there, 'coz, as both the Hebraic nomadic tradition and  the American legend remind us –  there's no place like home/s.
Happy Thanksgiving. Heres's to freedom, happiness – and hope.